BOLT -ON GUIDE
global data
ROAMING MONTHLY BOLT-ON DATA RANGE
JULY 2020

Facebook-f


Twitter


Instagram


Linkedin-in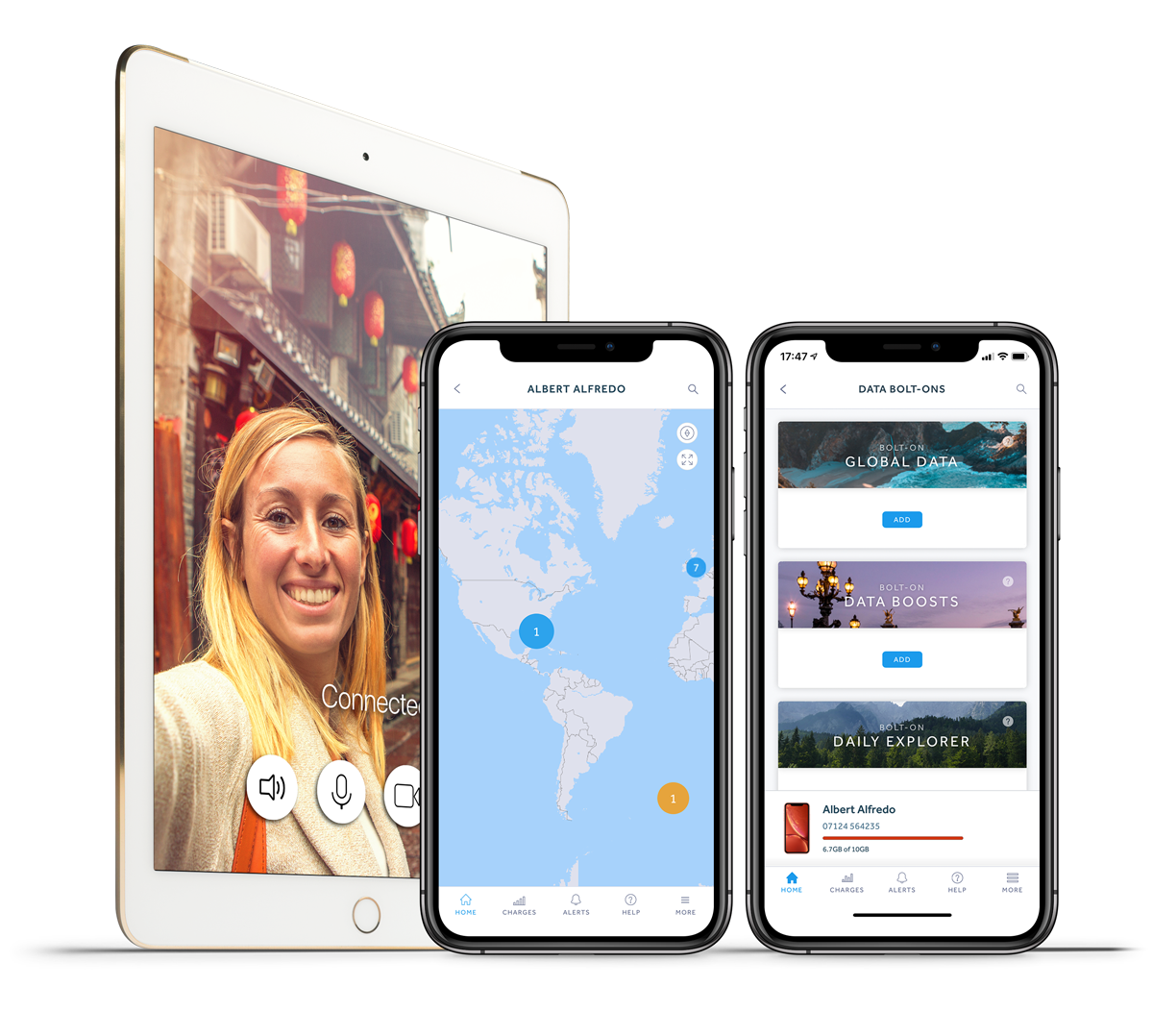 For business people on the move
Stay connected when you step off the plane. Global Data is our monthly roaming bolt-on that works in ALL countries outside the UK and plan.com Europe Zone.
Any data that you use in a Global Traveller destination (anywhere outside the UK and plan.com Europe Zone) is included in the bolt-on allowance, no matter where in the world you travel while roaming.
Global Data is available in 500MB, 1GB and 2GB options for Essential connections, 3GB for Gold connections and 4GB for Platinum.
TAILOR YOUR EXPERIENCE
my.plan is packed full of powerful insight and features designed for businesses of any size.
However, every business is different and so is every user. That's why we've introduced three levels of connectivity – Essential, Gold and Platinum – so you can choose the level of insight, control and support that fits your business and connectivity needs.
CHOOSE YOUR DATA SIZE
Choose how much monthly roaming data you need. Not all data options are available on Essential connections, but upgrading is easy!
Essential
Gold
Platinum
Global 500MB
Global 1GB
Global 2GB
Global 3GB
Global 4GB
Price
£30
£50
£90
£120
£140
WORLD ZONE REGIONS
Global Traveller destinations include most countries in the world but exclude the following destinations. Please note that these destinations are in the plan.com Europe Zone, where you will use your domestic UK allowances and do not require a roaming bolt-on. Excluded (domestic and plan.com Europe Zone) destinations:
Excluded (domestic and plan.com europe zone) destinations:
Austria
Azores
Belgium
Bulgaria
Canary Islands
Croatia Cyprus (Republic of)
Czech Republic
Denmark
Estonia
Finland
France
French Guiana
Germany
Gibraltar
Greece
Guadeloupe
Guernsey
Hungary
Iceland
Isle of Man
Jersey
Ireland (Republic of)
Italy
Latvia
Liechtenstein
Lithuania
Luxembourg
Madeira
Malta
Martinique
Monaco
Netherlands (The)
Norway
Poland
Portugal
Reunion Islands
Romania
Saint Barthélemy
Saint Martin
San Marino
Slovakia
Slovenia
Spain
Sweden
Switzerland
United Kingdom (inc. Northern Ireland)
Vatican City
TARIFF COMPATIBILTY
Not all options are compatible with all Tariffs so check here to see if Global Data is Compatible with your Tariff.
Pro Essential
Pro Gold
Pro Platinum
Sharer Essential
Sharer Gold
Sharer Platinum
MBB Essential
MBB Gold
MBB Platinum
Global Data 500MB
Yes
Yes
Yes
Yes
Yes
Yes
Yes
Yes
Yes
Global Data 1GB
Yes
Yes
Yes
Yes
Yes
Yes
Yes
Yes
Yes
Global Data 2GB
Yes
Yes
Yes
Yes
Yes
Yes
Yes
Yes
Yes
Global Data 3GB
No
Yes
Yes
No
Yes
Yes
No
Yes
Yes
Global Data 4GB
No
No
Yes
No
No
Yes
No
No
Yes
terms & conditions
These Terms & Conditions form part of the Customer Guide and are incorporated into the Business Customer Contract between each
Customer and Plan Communications Limited ("plan.com").
GLobal data
Our Global Traveller range of Bolt-Ons offer customers reduced cost additional mobile data and / or minutes allowances for use in our plan.com World Zone.
Our Global Traveller range of Bolt-Ons allow a customer to purchase a pre-set allowance of minutes, mobile data or both, for a reduced cost. The charge is payable, regardless of whether the allowances provided are subsequently used, or not.
Global Traveller Bolt-Ons are charged and allowances are provided on a full, calendar monthly basis. We cannot consider requests for discount for part-allocation usage or part-month deactivation.
Global Traveller Bolt-Ons and the allowances they provide are not prorated. This means, should the activation period span more than one calendar month, full allowances will be available and two (or more) calendar monthly charges will be incurred.
Iceland, Isle of Man, Jersey, Ireland (Republic of) , Italy, Latvia, Liechtenstein, Lithuania, Luxembourg, Madeira, Malta, Martinique, Monaco, Netherlands (The) , Norway, Poland, Portugal, Reunion Islands, Romania, Saint Barthélemy, Saint Martin, San Marino, Slovakia, Slovenia, Spain, Sweden, Switzerland, United Kingdom (inc. Northern Ireland), Vatican City.
Only one Global Traveller Data Bolt-On can be active at any one time. For a new Global Traveller Data Bolt-On to be applied, the existing product must first be deactivated, even if its allowances have been exhausted. This can take up to 24 hours to process. Any residual allowance associated with the original Bolt-On will remain available during that processing period and for the rest of the month. For example:
A Global Traveller Data 1GB Bolt-On is active on a Connection;
The Global Traveller Data 1GB Bolt-On is removed and a Global Traveller Data 2GB Bolt-On is applied in its place;
On the day of the removal, the Connection can still use the remainder of the original 1GB allowance;
Once replaced by the 2Gb allowance, up to 3GB of Global Traveller Data is available for the remainder of the calendar month.
GENERAL
A Customer will incur Additional Charges where calls, texts or data usage (as applicable) within a day/month/billing period exceeds both (i) the relevant allowance included within the Inclusive Allowance of the Customer's Tariff and (ii) the additional allowance provided by any Bolt-On or Data Boost that has been applied.
Additional Charges will be incurred at the rates set out in our 'Tariff Guide – Additional Charges', which you can find here https://guides.plan.com/additional-charges
You can contact us to change to a different Tariff at any point during the term of your Agreement with us. We will decide which Tariff you can change to. In certain circumstances, you may be required to enter into a new agreement with us for a Minimum Term.
Allowances and Charges quoted are all on a per Connection/per SIM basis.
All Charges in this Tariff Guide are exclusive of VAT.
Service is subject to the general terms and conditions and other terms of your Business Customer Agreement with Plan.
We reserve the right to amend these terms, or to withdraw or amend any tariff in this Tariff Guide at any time.
If we do that, we will do it in accordance with the notice provisions set out in the General Terms and Conditions you have agreed to.
References to Plan in these terms and conditions are to Plan Communications Limited, registered under company number 010273V, with registered offices at 2nd Floor, IOMA House, Hope Street, Douglas, Isle of Man IM1 1AP.
POLICIES
TERMS & CONDITIONS

Facebook-f


Instagram


Linkedin-in




© Copyright 2021 plan.com. All rights reserved. Plan Communications Limited trading as plan.com. Registered in the Isle of Man at 2nd Floor IOMA House, Hope Street, Douglas, Isle of Man, IM1 1AP. Registered Number 010273V, VAT number GB 004 1360 38
plan.com is a Member of the Internet Watch Foundation (IWF), a leading organisation for reporting and removing online child sexual abuse images and videos. Together we're making the internet a safer place. Read more or report a website here. Do the right thing.